Posted by ADMIN on 15th Mar 2015
Yes, we will be going to Spar International this year. No, we will not be exhibiting this year, but we'll be around to answer your questions, or just to meet up and chat. And yes, Tim will be sleeping in a tent in "The Backyard Room". But more on that later…
What We're Excited About
As always, we're expecting a great line up of exhibitors on the main floor, coupled with some exciting demonstrations as hardware and software manufacturers strut their stuff. We're particularly interested in talking to Kubit, to see what lies in store for them after recently being acquired by Faro – hopefully some exciting plans! As a bunch of software nerds, we're looking forward to being reasonably wowed by what some of the leading developers are up to, and of course properly cynical in hindsight. Needles to say, we'll be taking a lot of pictures and videos so stay tuned to the LSA Twitter (@laserscan)!
You're Never too Old to Learn
This year's presentations merit the packing of an extra notebook – there's almost too much content to take in! Here are a few talk's we're already amped up about:
Geospatial and Aerial Robotics and Autonomous Aerial Mapping and Inspection for Infrastructure: the names say it all. Drones haven't lost their buzz since first picking up steam a couple of years ago, and now it seems that every few months some great development pops up that brings us closer to complete autonomous mapping. Needless to say, these two talks will continue the hype we all share about robots that can do our jobs for us.
Wearbles, AR, 3D Printing and Bringing Holodecks into the Field: perhaps our personal favorite topic. Augmented Reality, rapid manufacturing and how we tie it all together is simply fascinating. Take a break from the heavier business concerns and allow yourself to get starry-eyed over the unbelievable things humans are doing with 3D technology.
The Best of Both Worlds and Utilizing a High Precision Laser Scanner to Capture 3D Data in the City Center of Dublin, Ireland: both these presentations hit the ground running by bringing together the worlds of static, terrestrial laser scanning and mobile mapping. Melding together a fluid data capture system with static building documentation is leading towards a more precise, data rich world across a wider terrain.
Don't Forget Your Sleeping Bag
Houston sounds like a great city, from what we hear. Having never been there before, we're looking forward to (hopefully) having a minute or two to explore what Houston has to offer its visitors. We're also looking forward to meeting up with some of our older clients and partners, and hopefully some new ones too! Feel free to shoot us an email or give us a ring about meeting up!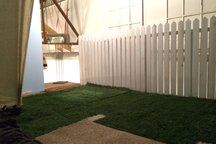 Also, Tim is feeling pretty excited to be staying at a very unique loft space, fully equipped with AstroTurf, white picket fence, and, of course a tent. It's going to be a fun week!